CADIZ COMMUNITY CHURCH
JESUS HAS RISEN
Checkout our Home Page
and our other pages on our
Cadiz Community Church site
SERVICE TIME: 10:30 AM
SERVICES
Sunday Coffee Time 10:00 AM
Sunday Service 10:30 AM
Wednesday Night Bible Study 6:00 PM
Come and join us! We would love to see you Sunday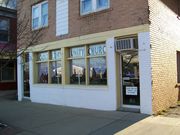 Notifying Visitors of Site Enhancements
We at the Cadiz Community Church enjoy the very presence of the Lord in our services. We are learning more about the gifts of the Holy Spirit, the plans God has for our indiviidual lives, and His way of doing things.
It is a continuing ministry to seek out His will and His way of doing things.
As the Cadiz Community Church we are also very interested in praying for our community and the surrounding area. We wish to reach the lost with the saving knowledge of Jesus Christ and the freedom that following Him gives to those who believe.
Customizing and Personalizing My Site
Behind the Scenes of My Home Page
We encourage all of God's people to attend the church of Jesus CHrist. Learn about Him, serve Him, and follow Him.